Saturday 9th of June 4:00pm
Reading of the Heathcote Williams poem by Jasper Britton
Handsome Dog Productions/ Bristol Radical History Group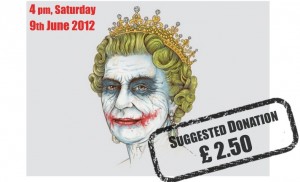 Royal Babylon comes to Bristol as part of a 'road show' that also includes Moscow, London, Dundee and Edinburgh. Actors Jasper Britton and Sean McCann will give a live  reading of Heathcote William's poem to accompany screened images and footage.
To coincide with the Royal Jubilee the filmmaker collective at Handsome Dog have created a multimedia exhibition mixing the Best of British Rock, Punk, Pop and Electronic music (from bands such as Radiohead, The Sex Pistols, The Smiths and Primal Scream) with stills and archive footage to retell Heathcote Williams' investigative poem "Royal Babylon:
Heathcote Williams has been a poet and agitator on "the last few things worth discussing" since his early twenties and his poem "Royal Babylon" was published on the internet in November 2011 to great acclaim and attention, with endorsements from fellow republicans Thom Yorke (Radiohead) and Morrisey (Smiths) amongst others.
Heathcote Williams is celebrated for many reasons; as writer, actor, painter, even conjurer. Heathcote's foray into diplomacy came in 1977 when he became Ambassador to Great Britain for a London squat called Frestonia which declared independence. His epic ecological poems such as Whale Nation and Autogeddon were loved by a readership far beyond the usual poetry-reading circles. He continues to paint, poetise and rant on matters topical and historical.
Though no true poet needs a prompt, the current action against worldwide greed in the form of "Occupy London" served as fuel to the Republican fire for Mr.Williams and explains why he has dedicated so much time and research to the monarchy subject:
"There is a robust history in British Culture of anti-Monarchist feeling. I only hope that, since the information revolution, British People now have the courage to follow their artists' lead.
The exhibition was originally mounted for the National Centre for Contempory Art Moscow (as part of a series of exhibitions entitled "Why Democracy?").
If you advocate the nature of debate, recognise the excessive spending of the last two years on Royal antics and the gross waste of national resources in a time of financial crisis or are just opposed to the continued unquestioning state recognition of monolithic institutions, and un-democratically elected bodies… then this is for you…
Margaret Cox curator, creative producer, "Royal Babylon"
Handsome Dog Productions
BRHG